This course will offer students an opportunity to explore fundamental Esalen® massage techniques from the side lying position. Students will learn how to integrate the signature Esalen® long, flowing strokes and slow rhythmic movements as well as turning the client on the table and effective use of forearms and fists, stretches, and sequencing from this position.
Special focus will be placed on Esalen® massage as an awareness-based practice, effective alignment on the table for client and therapist, draping, and daily self-care practices. This class is appropriate for massage therapists who wish to expand their repertoire. Prior experience with Esalen® massage is recommended but not required.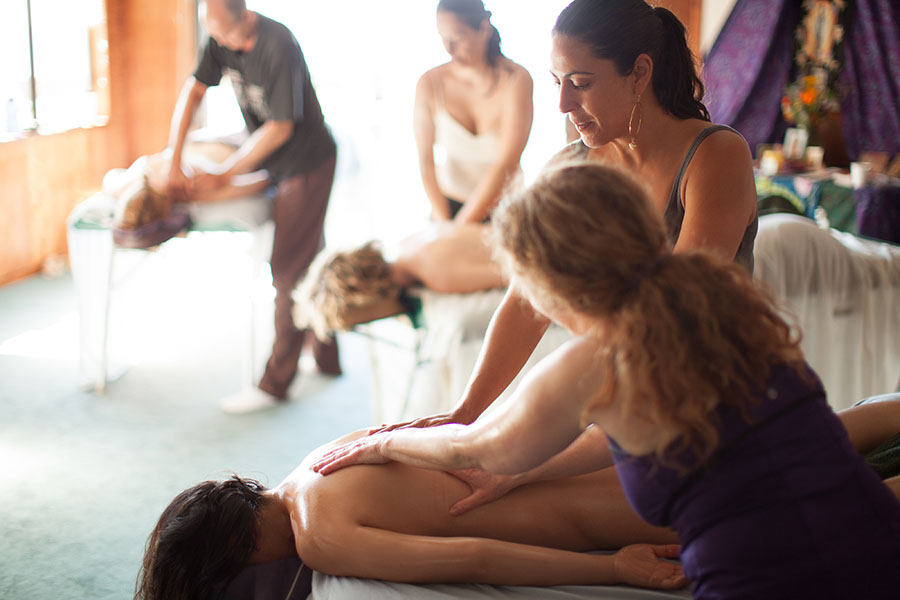 Cancellation Policy:  You are entitled to a full refund up until 30 days prior to the course.  No refunds will be given after September 1, 2022.
Jessica Fagan, MA, AMFT, CMT, has been deeply immersed in the practice and teaching of bodywork, movement, and Yoga since 1994 having studied, practiced and taught in the US, Canada, Mexico, Europe, Asia, and Indonesia.
She came to Esalen Institute in 1997 where she became part of the Healing Arts department and has been deeply influenced by the evolving and innovative forms of bodywork and Somatic therapies ever since.
Jessica's teaching utilizes her background in Eastern and Western body therapies, Psychology, the Arts, and love of making healing contact through the hands, to create a unique approach to working with the body and her students.
Jessica currently resides in the San Francisco Bay area, where she provides Expressive Arts Therapy, integrating her knowledge of the body, self-care practices, mindfulness, dance, and trauma-informed care through the use of visual arts, writing, music, and touch as a holistic approach to personal healing. Jessica maintains a private massage practice, teaches nationally/internationally, and when she is not working or teaching groups you will find her dancing, painting, performing, or spending time connecting with Pacha Mamma.
At the time this course registration was posted, May of 2022, we cannot know what the COVID risk will be in October of 2022. We hope the epidemic will have subsided to the point that precautions needed in the past will no longer be relevant.  If the epidemic risk changes substantially at the time of the course, or if CDC recommendations or governmental requirements change, we reserve the right to update our COVID precautions.  At that time we'll contact all registrants and work out a refund policy if necessary.
Start and end times, both days: 9:00 am to 6:30 pm, lunch break from 1:00 to 2:30
Decatur Healing Arts
619-A East College Avenue
Decatur GA 30030
Ample parking is available in an adjacent parking lot.
Numerous restaurants are available in the immediate area.
• Loose fitting clothing that allows for freedom of movement.
• One body pillow and one regular head pillow.
• Two sets of massage sheets. For each set, please bring two top (flat) sheets, do not bring fitted sheets.
• Your preferred lubricant.
• A pen and paper for taking notes.
• Please bring a massage table if you can. Decatur Healing Arts cannot supply massage tables.