Esalen© massage combines the skill of Presence with the listening hands of the practitioner to induce a meditative state for the client. Esalen© massage's long strokes move seamlessly along the body creating a general sense of balance and well-being. Esalen© massage is a seamless pleasurable experience for both client and practitioner.
Robin Fann-Costanzo has been a massage and bodywork educator since 2001. She teaches Esalen© massage, craniosacral therapy, ethics, and offers professional instruction to other massage educators. Her home base is Asheville NC, however she can be founding teaching in many locations nationally and internationally.
Robin has a special interest in providing massage for clients with trauma histories. She has studied at the Esalen Institute with trauma researchers Peter Levine and Bessel Van Der Kolk. Robin will soon complete a certification as a provider of Somatic Experiencing (SE), a modality developed by psychologist Peter Levine for treating clients with trauma.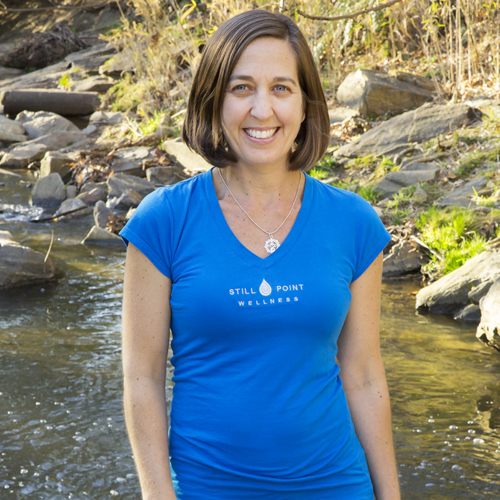 Cancellation Policy:  You are entitled to a full refund up until 30 days prior to the course.  No refunds will be given after January 24, 2022.
Due to the increasing risk of the Delta variant of COVID-19, the teacher and producer of this course (Robin Fann-Costanzo and Andy Ritan, respectively) have decided to limit the February 25 – 27, 2022, course "An Esalen Approach to Working with Trauma" to students who can offer proof in the form of a CDC COVID-19 Vaccination Record Card that they have been fully vaccinated against COVID-19. Since the vaccines take two weeks to offer immunity against COVID, participants must prove they have received the second dose of the two-dose COVID vaccines (Pfizer or Moderna) or a single dose of the Johnson and Johnson vaccine (the single dose vaccine) on or before February 11, 2022.
All teaching and administrative staff for this event have been vaccinated against the COVID-19 virus. We feel that requiring vaccination of all staff and students is the only way we can safely and responsibly move forward with offering this course at this time.
As an additional precaution, participants will have their temperature taken prior to participating and will be asked if they have been exposed to anyone with COVID or if they have any symptoms of COVID (coughing, fever, fatigue, loss of smell). Students who have been exposed to COVID or have symptoms of COVID are asked not to attend and will receive a refund.
Masks are required for all students at all times while in the classroom. The teacher may choose to lecture without a mask for ease of being understood by students.
Requirements for vaccination and masks may be relaxed or changed in other ways depending on unforeseen new circumstances in the world. However, registrants should assume that vaccination and masks will be required for this event.
The schedule will run from 9:00 am through 5:30 pm both days with a 90 minute break for lunch.
Please bring materials for taking notes.
Massage tables with face cradles are provided by the Heal Center.  You are responsible for bringing your own massage sheets, recommended one set per day (two sets for the event).  Please bring your own oil or lotion.  You will be using your own sheets when you do trades;  please bring whatever else you need to be comfortable, including perhaps a chest drape, a bolster or pillow for your legs, or a blanket in case you feel cold.